Welcome
Do please click the image to read the attached message!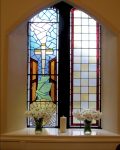 In his 4 May pastoral letter, available at this link, Rev Eddie Sykes reflects on the services at Kirkcaldy Methodist Church on 25 April. He recalls the way in which, following the benediction, members of the congregation had left with hope for the future, each taking with them a lit candle – a symbol of Christ, the Light of the world – and he speaks of the example given by the founders of the church for all of us to follow as we seek to be those, inspired by God, to reach out to others in their need.
---
On Sunday 16 May we look forward to welcoming you to our fortnightly Methodist service in the church at 11:00am. Please note that we're still asking everyone who intends to attend worship in person to email David Salthouse by 6:00pm the day before. For those unable to worship in person, there is a Zoom service at 9:45am: click on the calendar entry on our What's on page for more details of the service and the lectionary readings for the day.
For private home worship, service sheets will continue to be posted on the Circuit website. These are now being produced by the Methodist Church Ministries: Vocations & Worship team, and each service has prayers, suggested Bible readings, links to on-line hymns, and a reflection. The service for 16 May can also be downloaded at this link.
---
Every Sunday don't forget to light a candle at 7.00pm, and pray together with other Christians in Scotland, using the prayer specially written by the Scottish Church Leaders Forum, which you can download at this link (this prayer is usually updated on Fridays).
Our latest RMC Prayer of the Week is available at this link.
---
Welcome to Rosyth Methodist Church. We are part of the Methodist Church in Great Britain, a Church with some 300,000 members across England, Scotland and Wales.
The Methodist Church is a Protestant denomination which originated in the evangelical revival of the eighteenth century. Our main focus is on the universal nature of God's love, offered to all of humanity. Our response is to seek to live lives of holiness as part of the people of God. Methodism emphasises the need for a personal faith, and the involvement of all people in the life and work of the Church.
Women and men have equal places in our church organisation and in our ordained ministry. Everyone is invited to discover and offer their gifts in the service of God and of the world. We have always believed that faith is not to be confined to church, but should seek to enrich every aspect of human life.
Our congregation at Rosyth is in partnership with St Margaret's Scottish Episcopal Church. We share the one building and some of the various activities. This is a place for everyone and we would like people of all ages to feel part of our Sunday worship. Obviously in these times of coronavirus there are many constraints to regular meeting together, but we hope that, whether you join us in person or on-line, you will quickly feel at home, and also find sufficient challenges to move forwards in your spiritual life.
---
For details of what's on, click this link, or use the "What's on" tab.
---
Issues of "Contact", the newsletter of the partnership, can be viewed on-line or downloaded from links on the Our magazine page; our Archive page has links to separate pages with information on previous significant events.