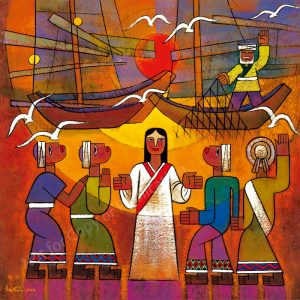 At our joint Communion and Covenant Service on 26 January, Rev Eddie Sykes preached on Isaiah 9:1–4 and Matthew 4:12–23. Here are some extracts, but do read the whole sermon, available at this link, or listen to the sermon again by clicking the Play icon in the panel below.
… we are introduced to Jesus at the beginning of his mission, as he walks along by the sea of Galilee proclaiming the kingdom of God – calling people to no longer live in the gloom, but instead to follow the light. This is good news. God's kingdom, visualised and established in heaven, prophesied by Isaiah, is now being shown in Jesus' activity, which includes calling people to share this same light and hope.
The good news is that when we follow Jesus we are going somewhere – guided by the light. … We are helped to relook at ourselves and what we should be doing – together to introduce people to God and encourage them to follow.
It means risk and trust as we take steps in a new direction. … Once you make those first steps in this new direction, your horizons change. I recall the story of a man who hired a local person to guide him through the forest. As they got deeper into the forest, the vegetation became more and more dense. At one point the man asked the guide, "Do you know where you are going? We have no map, no compass and there seems to be no path!" The guide answered. "My friend, in this forest I am the path! Just stay close and follow me."
Is that not what Jesus means when he calls to those disciples to follow him – to stay close? To us, in this often dense, complicated world, Jesus is saying, "Trust me, and follow my direction, and I will see you through."
… Today's reading helps us, because it doesn't end with the call to follow Jesus, and then the two sets of brothers following Jesus. It ends with a description of what Jesus is doing – teaching the good news of God's kingdom, the kingdom of light – and this includes proclaiming this news and healing the sick and afflicted.
We are not drawn to Jesus' past, but to what is happening in the present, which, in a sense, points us to the future and what it is that Jesus is calling us to. We are reminded of that in the Covenant Service. The call of Jesus is seen in his actions as well as his words. The walk and the talk go together.
… To what is Jesus calling us? Jesus calls us to follow – that has not changed since he walked along the shore of the sea of Galilee and called on Simon and Andrew, James and John. As we listen, we respond, we proclaim the kingdom of God – that God is among us – and we follow the one who is the Light.
---
The image by He Qi comes from Art in the Christian Tradition, a project of the Vanderbilt Divinity Library and is licensed under the Creative Commons Attribution Noncommercial ShareAlike 3.0 License.