Thought for the month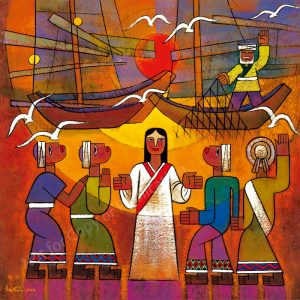 At our joint Communion and Covenant Service on 26 January, Rev Eddie Sykes preached on Isaiah 9:1–4 and Matthew 4:12–23. Here are some extracts, but do read the whole sermon, available at this link, or listen to the sermon again by clicking the Play icon in the panel below.
… we are introduced to Jesus at the beginning of his mission, as he walks along by the sea of Galilee proclaiming the kingdom of God – calling people to no longer live in the gloom, but instead to follow the light. This is good news. God's kingdom, visualised and established in heaven, prophesied by Isaiah, is now being shown in Jesus' activity, which includes calling people to share this same light and hope.
The good news is that when we follow Jesus we are going somewhere – guided by the light. … We are helped to relook at ourselves and what we should be doing – together to introduce people to God and encourage them to follow.
It means risk and trust as we take steps in a new direction. … Once you make those first steps in this new direction, your horizons change. I recall the story of a man who hired a local person to guide him through the forest. As they got deeper into the forest, the vegetation became more and more dense. At one point the man asked the guide, "Do you know where you are going? We have no map, no compass and there seems to be no path!" The guide answered. "My friend, in this forest I am the path! Just stay close and follow me."
Is that not what Jesus means when he calls to those disciples to follow him – to stay close? To us, in this often dense, complicated world, Jesus is saying, "Trust me, and follow my direction, and I will see you through."
… Today's reading helps us, because it doesn't end with the call to follow Jesus, and then the two sets of brothers following Jesus. It ends with a description of what Jesus is doing – teaching the good news of God's kingdom, the kingdom of light – and this includes proclaiming this news and healing the sick and afflicted.
We are not drawn to Jesus' past, but to what is happening in the present, which, in a sense, points us to the future and what it is that Jesus is calling us to. We are reminded of that in the Covenant Service. The call of Jesus is seen in his actions as well as his words. The walk and the talk go together.
… To what is Jesus calling us? Jesus calls us to follow – that has not changed since he walked along the shore of the sea of Galilee and called on Simon and Andrew, James and John. As we listen, we respond, we proclaim the kingdom of God – that God is among us – and we follow the one who is the Light.
---
The image by He Qi comes from Art in the Christian Tradition, a project of the Vanderbilt Divinity Library and is licensed under the Creative Commons Attribution Noncommercial ShareAlike 3.0 License.
On 12 January, the memorable homily preached to the St Margaret's congregation by Rev Dr Michael Paterson was based on the Gospel reading for The Baptism of the Lord, Matthew 3.13–17.
---
"How do you like your steak served?", she asked. "Rare? Medium rare? Well done?" "Cremated", I replied! By the look on her face, "cremated" wasn't an option on her list.
Today's readings pose the question: "How do you like your God served?"
helpless as a baby, cooing and gurgling in a manger?
a boy playing in Mary and Joseph's house?
an angry activist overturning tables in the Temple?
or an itinerant preacher, healing the sick and raising the dead?
I ask, because in seven short days we have gone from Jesus the adorable baby receiving birthday presents from the Wise Men to Jesus the headstrong adult, demanding to be baptised by John in the River Jordan.
Baptising a God doesn't make sense. Baptism – especially the baptism of adults – is for sinners. It's church's version of 'Wash and Go'.
Wash off the old life and Go and live the new one.
Wash off the past and Go and live God's future
Wash off the life of sin and Go and live the life of holiness
So what's Jesus, the Holy One, doing playing the role of a sinner? Baptism is not for people like him. Baptism is for people like us who mess up, and spoil things, and need a new start in life.
And yet it's precisely here, when Jesus identifies himself with all that goes horribly wrong in the world, that the silence of heaven is broken and the Father speaks up "This my Son my beloved – My favour rests on him".
Isn't it odd that we don't hear a peep from heaven when Jesus turns water into wine? Isn't it peculiar that we don't hear a word when Jesus heals the sick? Isn't it strange that God offers no divine round of applause when Jesus feeds the 5,000 or raises Lazarus from the dead? Instead, what wins heaven's seal of approval is that Jesus makes his baptism the very first act of his public ministry, and in so doing makes it abundantly clear that he aligns himself with those who are messed up and that his place is with those whose lives haven't quite worked out and that he chooses to stand shoulder to shoulder with those who are haunted by their pasts and long for a new future.
Let's face it, Jesus could have wowed the crowds by launching himself on to the world stage with some great big glitzy miracle, or blown their minds by some amazing teaching. But no! He launches his ministry by
plunging himself
soaking himself
immersing himself
in the dirt and scum and detritus of all that is broken and toxic in the world. And it's then, and only then, that the Father's voice resounds: "That's my boy!"
The Baptism of Jesus asks each of us who have been baptised to take a good look at ourselves. Are we miracle-chasers, hungry for the spiritual X Factor, season-ticket holders in a religious circus? Or, like Jesus, are we willing to get our feet wet, and wade in and immerse ourselves and stand shoulder to shoulder with those around us who are barely managing to keep their heads above water?
So, back to that question: "How do you like your God served?" Helpless, lying in a manger, an object for adoration, or passionate and fierce, a trailblazer in the campaign against all that is toxic and dehumanizing in the world?
Let's pray that this week we who have been baptized might stand shoulder to shoulder with those God sends our way. And that, when we do, we might just hear the Father break heaven's silence once more, as he whispers in our ears: "You are my beloved Son, you are my beloved daughter. My favour rests on you!"
Amen.
The following is an extract from a New Year message from the Archbishop of Canterbury. To read the rest of his message, and to find out the context of the image, you'll have to follow the link at the end …
---
The Good Samaritan is "… a story told by Jesus about someone taking the risk of reaching out to another who was very different to them. Yes, the person needed help – but they also needed connection.
"Christian faith doesn't promise us a comfortable life. Christ promises us hope, meaning, peace, purpose and joy – but not comfort! It's about following in the footsteps of Jesus, who took the risk of connecting with people who were separated from him.
"… every time we reach out and connect with someone, it is an act of heroism. Don't underestimate it.
"It could be someone you know. It could be someone you've always wanted to connect with but never have. It could be someone you really disagree with.
"Let's go for a heroic New Year's Resolution. Let's resolve to reconnect. To reach out to just one person we don't know, or from whom we have drifted apart.
"Pick one person. Pick up the phone. Send them a text. Meet them for a cup of tea. Make that connection. Let's begin cementing our unity one brick at a time.
"For this new year – and this new decade – I pray that we find the hope offered in Jesus Christ."
---
The full text of +Justin's message is available at this link and during January you can listen to it on iPlayer.
Rev Dr Michael Paterson introduced worship at our joint service on 15 December with these words:
---
Welcome to worship on the Sunday after the Friday before.
Whether your heart is celebrating, or your spirits are in your boots, know that you are welcome here.
Whether you are a leaver or a remainer, know that there's a place for you at this table.
Whether you are a Unionist or a Nationalist, know that God says you belong.
On this Advent Sunday we meet as God's people, still waiting for justice, still longing for a better future, and still hoping for the healing of our divisions – as a world and as a church
That's why today, in the centre of our worship, is the table of light – symbol of all that we need in these dark days of the year, until God sends his final messenger in Jesus, and puts the darkness to flight.
So let's light candles rather than curse the darkness.
---
We then enjoyed an ecumenical service, where Julia Reid shed a new light on Matthew 11.2–11, and Liz Crumlish led our intercessions. And the table of light pictured above combined Episcopalian and Methodist practices in a creative way.
Today is Advent Sunday: we lit the first Advent candle, and we read from Isaiah 2, starting again at the first page of the Lectionary. And this is some of what Michael Paterson said to the St Margaret's congregation:
At one level it's all about getting ready for Christmas, and that's right. But it's also the day the Church presses the restart button and says: Let's make a new beginning.
Every Advent, God poses the question to people like you and me who have been coming to church all our lives, and have been through the Advent and Christmas cycle so many times:
And the question is this: As the church presses reset, and begins all over again, are we up for religion? Or are we up for grace?
Religion is about the basics: keeping the commandments; honouring God and the Sabbath; loving our neighbour as ourselves. Religion is about the minimal entrance requirements for heaven. But the life of grace is a quite different affair.
Grace is about going beyond tinkering with religion, and saying to God: "I vote for you. I sign up to your deal. I back you 100%."
Grace is about saying: "The time for dabbling in dieting and getting fit are over. The time for playing games and messing about with religion is over. I am in it for real, Lord."
Grace is about turning our lives completely over to God, and praying for God to finish what he has started in us, to bring it to completion and to change us from glory into glory.
And all it takes is one simple YES to turn a lifetime of religion into an eternity of grace.
Let's pray for the grace this Advent to start out all over again, and to set our goal on nothing as tame as religion when transformation is on offer. Amen.
Michael's homily can be read in full at this link.