Thought for the month
Acts 2:1–4: The Coming of the Holy Spirit
When the day of Pentecost had come, they were all together in one place. And suddenly from heaven there came a sound like the rush of a violent wind, and it filled the entire house where they were sitting. Divided tongues, as of fire, appeared among them, and a tongue rested on each of them. All of them were filled with the Holy Spirit and began to speak in other languages, as the Spirit gave them ability.
---
When the Spirit came on that first Pentecost,
the disciples were all together
waiting
On this Pentecost, scattered as we are,
waiting
and hoping
for we know not what
still the Spirit comes
Merrily waltzing into our living rooms
Powerfully crashing into our chaotic spaces
Humbly sitting at our kitchen table
Joyfully taking a seat beside us on the sofa
Quietly embracing us in our grief and confusion
in our yearning and loss.
The Spirit gets in among us anyway and every way
She sits until we are ready to pay attention
And then she takes us on a tour that reminds us
that in every place
and every time
God is present
And the Spirit of God
announces that presence
In a song
In a whisper
In a cacophony of praise
In a cry for help
In a deep breath
The Spirit of God weaves together the fabric of life itself
Until we know that nothing can ever separate us from Gods love
And so as we pray for the healing of Creation
and for healing for our neighbour
Our prayers are lifted
on the wings of the Spirit
and our sighs are caught up
and presented to God
And our faith
and hope
and love
are reborn
in the life of the church
in the life of the world
The eternal gift of the Spirit at Pentecost.
Spirit of God, may it be so.
---
A blog from Liz Crumlish.
The image comes from Sharon Tate Soberon's Art4TheGlryOfGod photostream where it has the title "Come Holy Spirit".
Already this month we have been celebrating (though in a more muted fashion than originally planned) the 75th anniversary of the end of the war in Europe: today (12 May) we celebrate International Nurses Day, the day of the bicentenary of the birth of Florence Nightingale, in whose honour 2020 has been designated the International Year of the Nurse and Midwife.
As it says on the Florence Nightingale Museum website, it's a time when the "nursing, washing your hands and evidence-based healthcare pioneered by Florence Nightingale have become more important than ever before".
If last Thursday, after clapping for the NHS, you watched BBC4's repeat of the 2008 drama about her life, based largely on her own words, you'll know that Florence was driven by a sense of God's calling, and that calling made a real difference to what she did and what she achieved. [The film is currently available on iPlayer at this link]
Florence featured again on Radio 4's Sunday Worship service which was led by the Bishop of London, one-time Chief Nursing Officer, Dame Sarah Mullally. Dame Sarah spoke about the significance of Florence Nightingale for NHS workers today:
"VE commemorates victory on the battlefield after uncountable suffering and loss, but 1945 also marked the beginning of a social transformation, in health, education and housing. Recently we have seen another herculean national effort invoking the name of the nation's most famous nurse, Florence Nightingale, who also forged her reputation and skills in a time of national crisis.
"So as we commemorate VE day, and reflect on the life and legacy of Florence Nightingale, in today's service we ask 'What are we building today? What does the moment require of us, not just in solidarity now but in the years to come, in shaping a more compassionate world?'"
Sarah went on to talk about Florence's life: "A talented mathematician, she was also drawn to caring for the sick and made no secret of an explicit calling from God – a call to service. She believed that God wanted to change the world … we should not only pray for deliverance, but we should work to bring deliverance."
Having described some of Florence's contributions to nursing and statistics, Sarah ended: "In an address to nurses in 1873 in which Florence describes the vocation of a nurse she said 'Feeling God has made her what she is, she may seek to carry on her work in the hospital as a fellow worker with God. Remembering that Christ died for her, she may be ready to lay down her life for her patients'. The faith which underpinned her lifelong commitment to nursing could not be made clearer than that."
The whole service is worth listening to, and is available at this link – you even get a sermon by Dr Rowan Williams thrown in!
This morning's Gospel reading on the Resurrection of Jesus, as found in Matthew 28.1–10, tells the story of the women who went early to the tomb and were the first to discover the marvellous truth that the one they loved and thought they had lost for ever had been raised from the dead, and was going before them to Galilee.
As well as reading the passage, you can listen at this link to the service that includes Eddie Sykes' reflection, or join in Kenny Rathband's virtual congregation via this page.  And you can read this reflection about the message from the angel, from which we have taken this post's title, from our friend Liz Crumlish.
Do not be afraid!
Really?
In the midst of pandemic
when all we know is upended
when all we love is at risk
How can we not be afraid?
You, O Lord,
whose every landmark moment
of life
and death
was accompanied by these words
Do not be afraid
Whispered by the angel
who visited Mary the mother of God
to announce your coming
Do not be afraid
Sung by a heavenly choir
to shepherds 
Do not be afraid
shouted over the wind and waves
to disciples on a stormy sea
Do not be afraid
spoken to Peter, James and John
on a mountaintop
Do not be afraid
Pronounced to women at the tomb
To disciples in a locked room
To fishermen on the beach
To those who witnessed the Ascension
Do not be afraid
You proclaim these words
Risen Christ
as a portent
to your merging heaven with earth
May we always see in these words
your presence
giving strength
your power
making a difference
your love
changing us
until we see the whole world
in the light of a loving creator
who knows us
who loves us
and who holds us fast
in risen power.
Do not be afraid
Sadly, social distancing isn't new. Had we been at St Margaret's this Palm Sunday morning, we would have said the part of Psalm 31 that contains the words: "I became a reproof among all mine enemies, but especially among my neighbours : and they of mine acquaintance were afraid of me; and they that did see me without conveyed themselves from me."
Reading that reminded me of a memorable Sunday@Six in March when Julia Reid and Michael Paterson shared some of the laments contained within the Psalms. Little did we know then that it would be the last time our two congregations would be able to worship together for some time.
No palm crosses to share today, but Michael sent this photo from his wee chapel in the garden. Mario made the cross out of dry willow branches that they had found. At the bottom of the cross are the laments and prayers written by those who were able to come on 15 March – do please make time during Holy Week to read this note about that memorable service – and the candles represent his prayers for all the people he loves. Think of that as you light your candle at 7.00pm each Sunday …
On 15 March we used this reworking of Psalm 130 that is worth reading. "Anguished and afflicted, terribly alone" and "Apprehension and hope struggled within me" speak to today's condition, but the Psalm ends "the communion of the rescued will rejoice in your name." We aren't there yet, and there are dark days ahead, but Easter is coming. Hallelujah!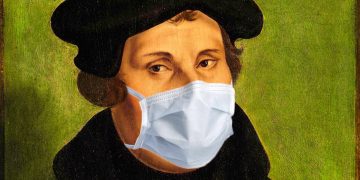 A theologian friend passed on this example of responsible Christian behaviour in a time of pandemic.
The Reformer Martin Luther (1483–1546) wrote to a friend on how he will behave as a pastor during a time of plague:
I shall ask God mercifully to protect us. Then I shall fumigate, help purify the air, administer medicine and take it. I shall avoid places and persons where my presence is not needed in order not to become contaminated and thus perchance inflict and pollute others and so cause their death as a result of my negligence. If God should wish to take me, he will surely find me, and I have done what he has expected of me, and so I am not responsible for either my own death or the death of others. If my neighbour needs me, however, I shall not avoid place or person but will go freely as stated above. See this is such a God-fearing faith because it is neither brash nor foolhardy and does not tempt God.
My friend added this footnote:
Luther himself was not the only Lutheran who knew how to behave during plague. Philip Nicolai (1556–1608) was a pastor in Germany, and a poet and composer. He wrote (both words and music) two of the most beautiful chorales we associate with Advent and Christmas: Wachet auf! ("Sleepers wake") and Wie schoen leuchtet der Morgenstern ("How brightly beams the morning star"). He wrote them for his congregation during a terrible outbreak of plague, when he was conducting as many as 30 funerals a day.