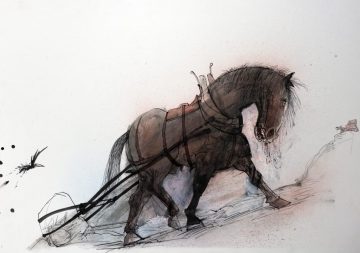 On weekday mornings, those who switch between radio programmes benefit from two different "Thoughts for the Day", on Radio Scotland at about 7:23, and on Radio 4 at about 7:48. These reflections are very varied and their faith perspective makes a welcome change from the news!
Unusually, this morning's thoughts had the same starting point, the 75th anniversary of the publication of George Orwell's Animal Farm, a satirical take on Stalin's Russia.
Fr Jamie McMorrin from St Mary's Catholic Cathedral, Edinburgh, used Orwell's own classification of books to describe Animal Farm as one of those books that alters one's whole attitude to life. The fact that we're still reading it proves the writer's pen to be mightier than the dictator's sword, though, compared to the Bible, Animal Farm's 75 years is like the blink of an eye, its symbolic allegory is nothing compared to the Book of Revelation, and "if it's empire-shaking radicalism that you're after, look no further than St Paul."
Fr McMorrin also noted the start last weekend of the Edinburgh International Book Festival (this year on-line), and its celebration of the continued importance of books. Reading a good book helps us "try to understand our world, to understand ourselves and to make a small start at changing them both for the better."
Dr Anna Rowlands of Durham University talked about the group of mid-century writers to which Orwell belonged. Orwell, Camus, and Auden tackled a common set of troubling questions: "How do we get as deeply into the world as possible? look at it without illusion? understand the suffering we create? but also find the courage to resist and to hope?"
For Auden, Christ's command to love ones neighbour was the teaching that could enable resistance to power gone awry. Being able to see the infinite worth of an imperfect other was for him an insight that comes from outside ourselves. It's "the kind of insight you have to choose to really own for yourself again and again. For it means being willing to revolt in the face of every system that decides some human beings are worth more than others.
"The great miracle for Auden is the moment when you choose to 'love your crooked neighbour with your crooked heart'. When we do, we image God, who Auden says, 'numbers each particle … by its Proper Name'. God is the very opposite of indifference. God is not like an algorithm. Great poetry and literature, Auden wrote, 'makes nothing happen', but it does extend our knowledge of both suffering and love, and by doing so makes all the more urgent the choice that lies before us, to actively choose to inhabit a more genuinely human world."
---
The portrait of Boxer, the steadfast and loyal horse, is Ralph Steadman's illustration for the 50th anniversary edition of Animal Farm.